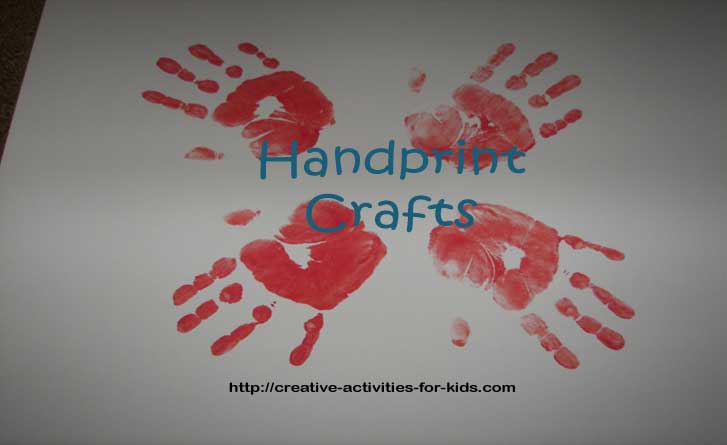 Handprint Crafts
---
Handprint crafts are a beautiful way to make treasured keepsake of your children's hands to remember when they are little. These make great gifts for parents, grandparents, family, and friends.
I like to use tempera paints to do most of these. If you would like to avoid to mess of paint, you can photo copy your little ones hand and use it as a template.
---
Fun Handprint Craft Ideas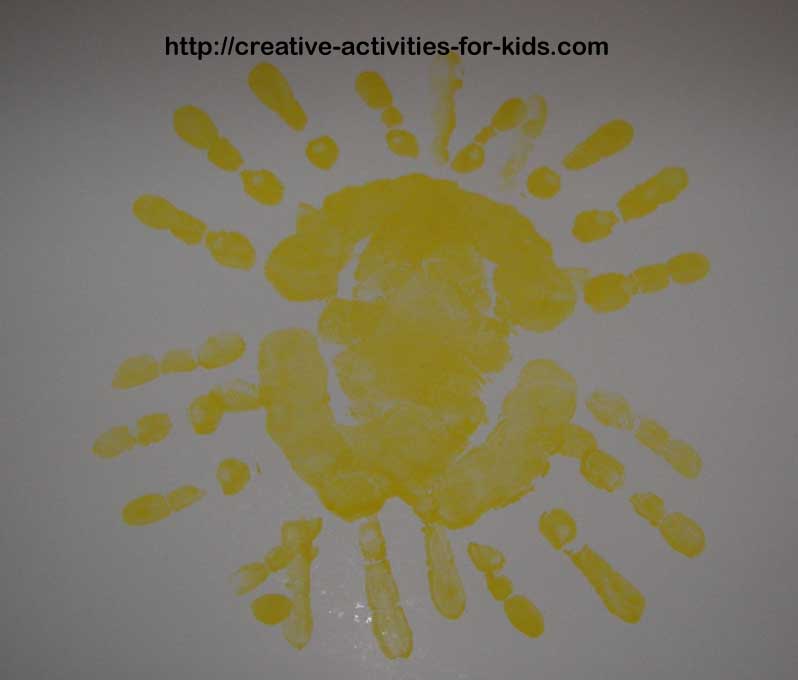 Sunshine Handprints
Supplies:
Yellow tempera paint
Have your little one stamp their paint covered hands in a circle to create a sunshine.
This is a good craft for summer time.
---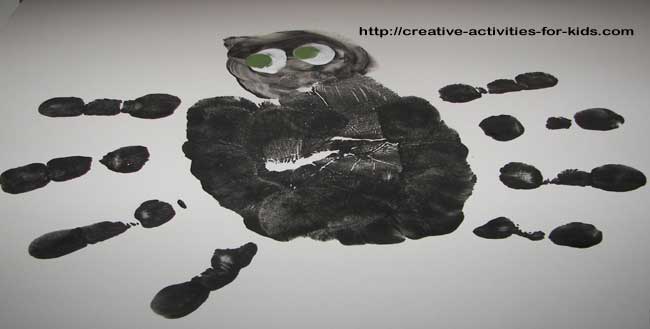 Spiders
Supplies:
black, white and green tempera paint
Have your little one stamp their paint covered hand once, and then the other paint covered hand on top of the palm section of the first print with their hand going in the opposite direction. I let them mix the thumb prints together to form the head.
Then we use our thumbs with some white paint for the eyes, followed by some green.
This is a great Halloween craft!
---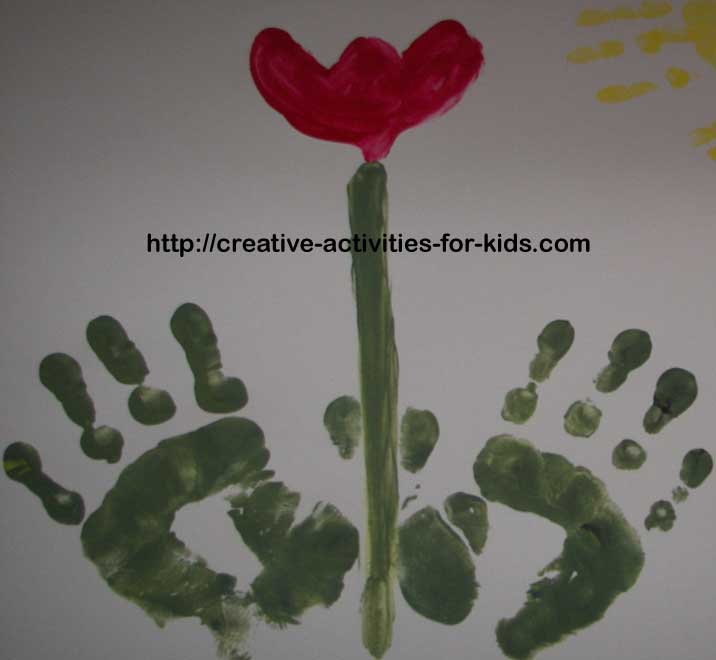 Flower Handprint
Supplies:
green and red tempera paints
Have your little one stamp both hands painted in green onto the paper, then let them finger paint the stem. Switch to red paint and either hand stamp the flower or finger paint one (as shown).
I love making these as a Mother's Day gift. You can make a whole bunch and give them as a bouquet!
---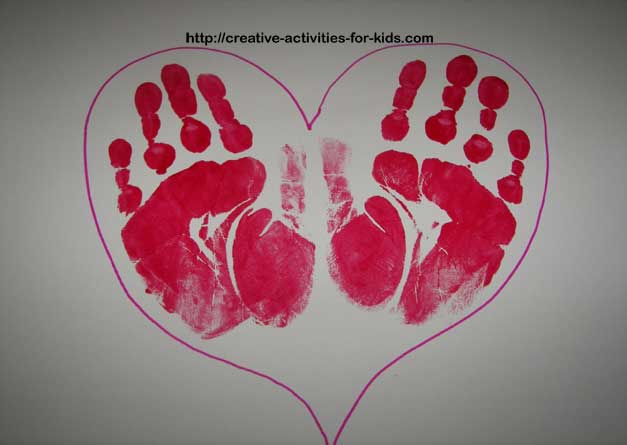 Valentine's Handprint
Supplies:
red or pink tempera paint
Have your little one stamp their painted hands in the shape of a heart, then you can outline it with a marker.
This is a great way to make homemade Valentine's cards.


---
Berry Handprint Keepsake Box
This one starts by letting your child eat some blackberries (or the berry of your choice) once their hands are nice and messy press their hands onto white paper.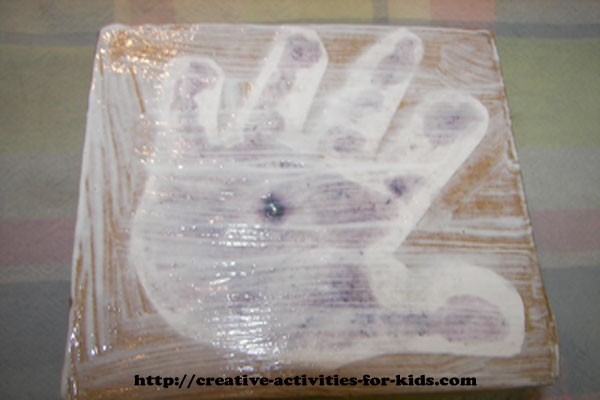 Supplies:
Mod Podge
berries
paper
brush or sponge to spread Mod Podge
cardboard box blank (found at craft stores)
cute little hands
Directions:
After you have printed your child's berry hands onto paper, wash their hands, I had no problem getting them clean.
When the handprints dry cut them out. Using Mod Podge afffix one hand to the cover of the box, and one inside. Coat with a thick layer of Mod Podge.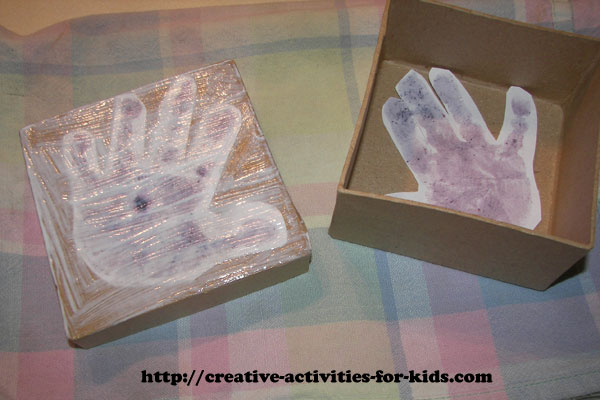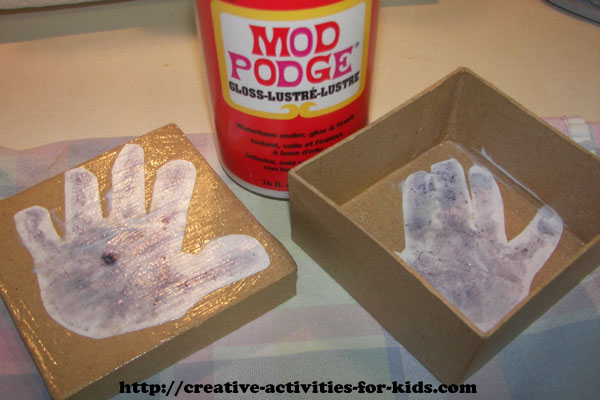 It will dry clear. Use this as a gift box, or simply give it by itself as a gift. You can write your child's name and the date on the bottom.
You can also use regular paint for the handprints! Enjoy!




Did you like the handprint crafts? Check out more crafts here!