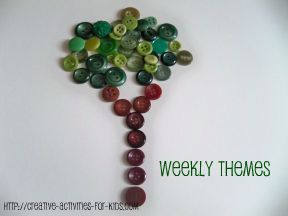 Need some weekly theme ideas?
Having a weekly theme for your kids helps nurture their creative spirit, and keeps your kids interested in learning. There is nothing more exciting when finding a theme that really captures your child's interest.
Having weekly themes during the summer and all year round is a great way to keep things interesting.
Once you have the theme, you base the rest of the week around it.
Here is my list of tried and true themes I have used over the years.
These work great for kids of all ages!

Africa

All About Me

Ancient Egypt

Animals

Apples

Around the World
Artist
Backyard Olympics
Beach
Berries

Birds
Butterflies
Camping
Careers
Charity

Colors

Cooking
Crafting
Dinosaurs
Family Tree
Farm
Festivals Around the World
Fiber Arts
Game
Habitats
History
Insects
Inventors
Lights, Camera, Action!
Make believe
Mystery
Native Americans

Pioneer Week
Planets

Random Acts of Kindness

Science
Seasons
Snow

Space
Under the Sea
Weather
Writing
Zoo

The weekly themes work great for planning your summer. I start planning for each theme a week in advance, of course sometimes I wing it!
I try to pre-plan to figure out what supplies, if any I will need, so I am not running out to the store constantly.
I find that the beginning of the week is a good time to take a trip to the library or book store to collect books based on your theme.
For the cooking portion I figure that part out when I make my grocery list, so we have everything we need for that.
You can make these a day, week, or month long theme. I let the children's level of interest decide that.