Play Dough Recipes
---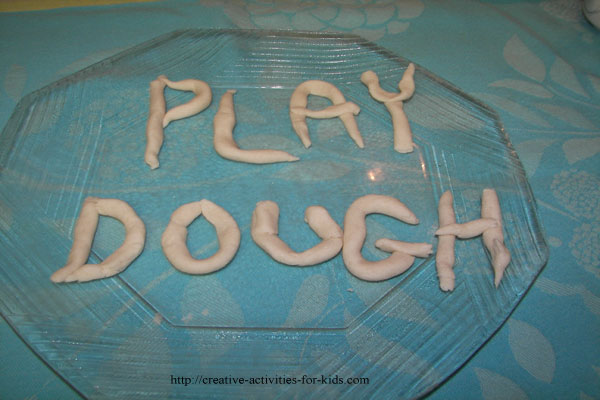 Here are lots of great clay and play dough recipes for your kids to enjoy! You don't have to spend all the money on the premade stuff and all the gadgets.
Here is what we use: garlic press, kid sized rolling pins, plastic knives, forks, and spoons, cookie cutters, and anything else we find in the kitchen that is safe.

Traditional Cooked Play Dough
Supplies:
3 cups flour
1.5 cups salt
6 tsp cream of tarter
3 tbsp cooking oil
3 cups water
large saucepan
wooden spoon
Directions:
In saucepan dissolve the salt in water. Add the flour, cream of tarter, and cooking oil. Stir constantly over medium heat until the dough pulls away from the sides of the pan.
Turn off heat and place the dough on cutting board or counter top that has been lightly sprinkled with flour, and knead for 2-3 minutes. Store in airtight container.
This recipe is best to make the night before you will use it, since it is time consuming.
---
Kool-aid Play Dough
Please note that the Kool-aid will stain surfaces and your hands when you are kneading it. Use rubber gloves during the making process! This makes a fun scented dough!
Supplies:
1 cup flour
1/2 cup salt
3 Tbs cooking oil
1 packet of unsweetened drink mix (like Kool-aid)
1 cup of hot water
large mixing bowl
spoon
Directions:
Sift together dry ingredients, add oil and water. Stir until very well blended and then knead dough for 2-3 minutes. Store in airtight container. This is not meant to be eaten!
---
Super Easy Play Dough
This is the play dough recipe I use most often.
Supplies:
2 cups flour
2 tablespoons cornstarch
1 cup cold water
1 cup salt
2 teaspoons vegetable oil
Food coloring (if desired)
Directions
In a large bowl, mix together water, salt, oil and a few drops of food coloring. Mix flour and cornstarch and add 1/2 cup at a time, stirring constantly until well blended. You may need to add little more flour. Knead for a few minutes with flour on your hands.
Store in airtight container.
---
Oatmeal Play Dough
This play dough has a great scent, and lumpy texture which is great to use as a sensory activity.
Supplies:
1 cup flour
1 cup water
2 cups oatmeal
Mix everything together in a large bowl. Then knead for a few minutes, and store in an airtight container.
---
Dryer Lint Clay
What a great way to use up all that dryer lint! This dough works great!
Supplies:
2 cups firmly packed dryer lint
1/3 cup warm water
6 tablespoons white glue
1 tablespoon clear dish soap (I use Seventh Generation)
mixing bowl
food coloring if desired
Directions:
Combine water, white glue, food coloring and dish soap. Add dryer lint and mix until well formed. Mold into shapes, and let dry a few days before painting or embellishing.
---
Baked Clay Recipe
Supplies:
4 cups flour
1 cup salt
1 1/2 cups water
2 tablespoons vegetable oil
Food coloring if desired
Paints, if desired
1 egg, beaten
Directions:
Mix together and knead until smooth. Separate into parts and add a few drops of different colors of food coloring.
Make into shapes and use cookie cutters, garlic press for hair, and molds to make fun figures. Put shapes on a cookie sheet and bake in a 300 degree oven for about one hour until the clay is golden. Seal with shellac, and paint as desired.


---
Did you like these play dough recipes? Try more fun recipes here! Did you like the play dough recipes? Try more diy crafts here!