Berry Theme
---
Kids will love a berry themed week, it is perfect in the summer when berries are plentiful! A wonderful way to start the week is to read the below mentioned books, they will have your child very excited to start this theme.
A great way to get your berries is to look into local u-pick farms in your area. A great resource to find u-pick farms in your area can be found here.

Another great place to get berries are your local farmer's markets, you can find one in your area at Local Harvest

We have a great local strawberry/raspberry/blueberry u-pick farms, lots of great farmer's markets, plus we grow our own raspberries. We are lucky enough to have a huge patch of wild blackberries in our yard as well. If your family is berry crazy as ours is, it may be fun to plant some berries of your own.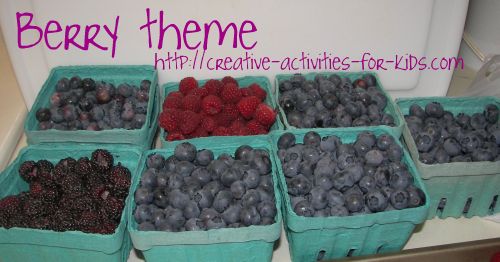 Berry Activities
---
Berry Ink How fun would it be to write a letter to a friend, using homemade berry ink!
Berry Dye You can use the berry dye to make unique berry dyed shirts, or play silks!


Berry Recipes
---
Berry shortcake parfaits
Berry smoothies
Berry yogurt parfaits
Blueberry muffins
Easy berry tarts
Freezer jam


Berry Books
---
Blueberries for Sal
Bread and Jam for Frances
Jamberry
Peter in Blueberry Land
Strawberries are Red
The Giant Jam Sandwich
The Grey Lady and the Strawberry Snatcher
The Little Mouse, the Red Ripe Strawberry, and the Big Bear