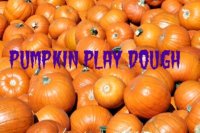 Pumpkin Play Dough
---
Making pumpkin play dough is a great autumn sensory activity! This is a cooked play dough recipe, so it is best to make it ahead of time.
Ingredients:
2 ¾ cups flour
1 cup salt
4 tsp cream of tartar
1/4 plus 3 Tbs oil
1/2 cup pumpkin pie spice
2 cups water
Orange food coloring
Directions:
Combine ingredients in sauce pan and stir over medium low heat until it becomes the consistency of play dough.
Kids love to work with this play dough because it smells so good.
A great idea is to roll out the dough and cut into shapes using pumpkin cookie cutters, with a straw make a hole in the top. Let them dry overnight or in a low oven for an hour or so.
String them with purple ribbon and give as scented air freshener gifts for autumn.




Did you like making the pumpkin play dough? Try more play dough recipes here!